The One Centre is a mixed use commercial development
The One Centre: A New Retail/Commercial Pre-Construction Project
The One Centre Retail stores at Warden and Eglinton Ave
Announcing The One Centre Plaza, a pre-construction retail and commercial project at 41, 55 and 69 Lebovic Ave in Toronto, major intersection Eglinton Ave. East & Warden Ave with prices starting at $366,990 and final closing October 20/2016.
The One Centre is a planned luxury commercial development in a high traffic location professionally designed with ample parking.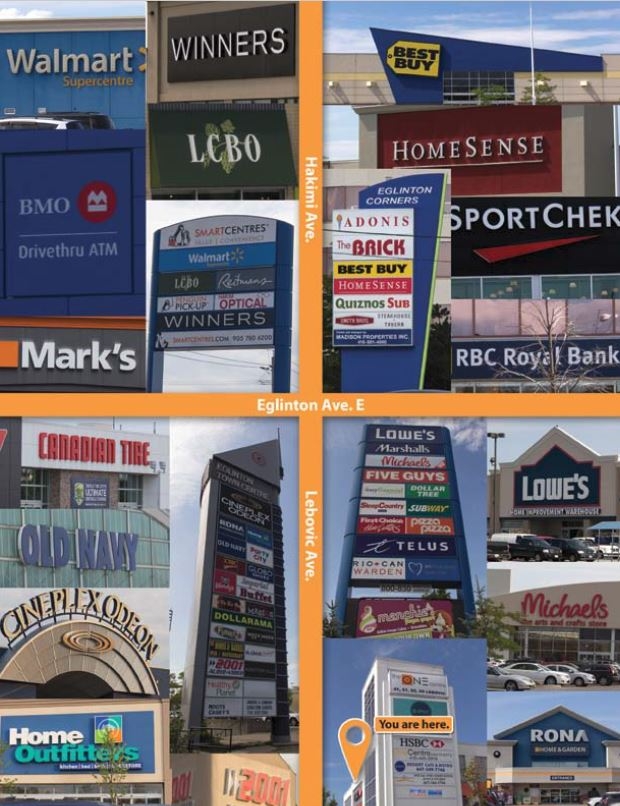 The One Centre is a planned luxury commercial development in a high traffic location professionally designed with ample parking. An excellent location with three buildings suitable for:
Retail stores
Medical
Professional
Commercial
Restaurants / food court locations

Sales are first-come, first-served. Final closing October 20, 2016.

Deposit Structure
• 5% with offer
• 5% in 30 days
Final closing 60 days from the signing date.

VIP Incentives
• One Year Rental Guarantee $20 per S.F. Annually
• All post dated cheques will be given when the deal goes firm Example: If the unit is 1046 S.F. Monthly rent amount will be $ 1,743 (TMI not included)
Welcome to The One Centre at Warden & Eglinton.
The One Centre is a professionally-designed mixed use commercial development which will soon be home to national retailers, popular restaurants, authentic food court outlets, and professional and medical offices. Strategically located at the corner of Warden Avenue and Eglinton Avenue East, The Once Centre strives to be another impressive retail, food and business hub in an already growing area.
Location Says It All
With its proximity to downtown Toronto and easy access to the rest of the Greater Toronto Area (GTA), The One Centre will be another key attraction and signpost for shoppers diners, and visitors seeking a state-of-the-art shopping and dining experience.
Located within minutes of the The One Centre are an abundance of existing national retailers already established in this high profile commercial gateway. Big box retailers, major banks, national car dealerships and the Cineplex Eglinton Town Centre Cinemas are just a few of the highlights.
Growth and Opportunity
The One Centre is actively seeking interesting and exciting new tenants and investors. With it's modern design and attractive location, The One Centre offers unlimited business opportunities for investors and business owners to open the doors to their future successes and prosperities.

Everything In One Place
Office
The One Centre has dedicated 12,000 square feet of contemporary office space for businesses, professionals and entrepreneurs. With it's excellent parking facilities and convenient location, The One Centre opens a profitable door to the multidimensional businesses of all categories.
Restaurant
The One Centre had foodies in mind while undergoing its architectural planning. With a beautiful 6,500 square feet restaurant space currently available, guest will enjoy exceptional food selection, an outdoor patio, unforgettable atmosphere, and convenient parking – all within a few feet of fashionable retails cafes and professional offices.
Retail
The One Centre boasts a diverse reach of all different categories of retail businesses. This diversity creates an opportunity for many well-known and popular retailers to establish stores in the One Centre's modern, 43,800 square foot retail space.
Food Court
The One Centre proudly features 6,700 square feet of food court space currently seeking tenants. With a variety of exquisite food selections as well as impressive beverage categories, this section of the One Centre will attract shoppers and more regular consumers from local offices and nearby businesses.