Avro Condominiums by Davpart
AVRO is Really A Very Rare Opportunity
Introducing Avro, the brand new condo development located at Allen Rd. and Sheppard Ave. Just steps away from Downsview Station and the soon-to-be York-Spadina expansion, you're conveniently close to downtown, York U and everywhere else you want to be. There's also plenty of nearby shopping in the area like Yorkdale and outdoor spaces like Downsview Park and Earl Bales Park. With a world of possibility waiting for you at Avro, the choice is easy.
2017 is already a record breaking year for GTA pre-construction projects- with virtually all projects selling out almost immediately: Mills Square Condos and YongeParc Condominiums in just ONE DAY! Regardless of which area or neighborhood they appear- if you build them, they will come. That said, North York is one of the most sought out areas in this city, so I'd like to bring A Very Rare Opportunity to your attention: AVRO Condominiums in North York.
Sales Start: Winter/Spring 2017
EST. COMPLETION: Fall/Winter 2019
UNITS & STORIES" 180 Units, 14 Stories
Description: Avro Condominiums is a new condo development

by

Davpart
currently in preconstruction at 10 De Boers Drive, Toronto. The development is scheduled for completion in 2019. Sales for available units start from the low $200,000's. Avro Condominiums has a total of 180 units.
Sale Prices - Available Units: From the low $200,000's
Cost to Purchase Parking: $38,500.00
Cost to Purchase Storage: $3,500.00
C.C / Maint: $0.53 Per SqFt per Month
$5,000 on Signing
Balance of 5% in 30 days
5% in 180 days
5% in 400 days
5% on occupancy
AVRO Condo Neighbourhoos Highlights
– Located at Downsview Subway station, and the future York-Spadina expansion. right beside HWY 401
– 2 minutes away from Downsview Subway, TTC
– 9 minutes to luxurious Yorkdale Shopping Centre
– 10 minutes to York University
– YORK-SPADINA SUBWAY EXTENSION TO BE READY FOR END OF 2017
– Steps to Costco Wholesale, Home Depot, LCBO, Best Buy
– Short commute to Downtown Toronto
Avro Condominiums is a modern and elegant 14-storey, 180-suite condominium building conveniently located at the near Allen Road and Sheppard Avenue West just steps from Downsview subway station.
Designed by internationally-renowned architectural firm BBB with interiors by Tomas Pearce, Avro boasts a wide-range of amenities including a dog spa with an outdoor dog run, a multi-purpose lounge/party room, a fitness centre, and a spacious outdoor patio - ideal for barbeques and al fresco dining. An all-season rooftop terrace located on the 14th floor featuring an indoor lounge, outdoor cabanas, and sun loungers offering a stunning panoramic view of the city all year around.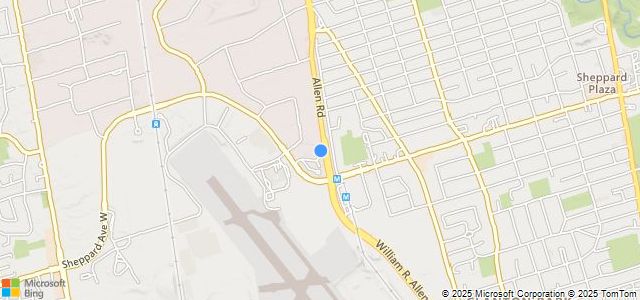 Since the 1996 opening of Downsview subway station, closure of CFB Toronto, and the subsequent creation of Downsview Park on its former site, the area surrounding Toronto's Allen Road and Sheppard intersection has attracted reinvestment and urban intensification over the past two decades. The latest development to hit the market in the neighbourhood is Davpart's Avro Condominiums at 10 De Boers Drive, set to rise 14 storeys above Allen Road, a block north of Sheppard.
Avro Condominiums, image courtesy of Davpart
Named in honour of the bygone Canadian aerospace company that built the famed Avro Arrow, the BBB Architects-designed project pays homage to nearby Downsview Park's former use as a military air base. To replace a former surface parking lot, the redevelopment will introduce 180 condominium and townhouse units to the subject site, a couple minutes walk north of the (soon to be renamed 'Sheppard West') subway station.
Avro Condominiums, image courtesy of Davpart
Avro will offer its residents a wide range of amenities, with interior spaces appointed by Tomas Pearce Interior Design Consulting Inc. These spaces include a lobby with concierge service, a multi-purpose lounge/party room, a fitness centre, and a 14th floor indoor lounge. A rendering of the lobby space, included below, reveals a striking hangar-like space with high ceilings, playful lighting, and a minimalist colour palette.
Lobby at Avro Condominiums, image courtesy of Davpart
The development will also offer Strybos Barron King-landscaped outdoor spaces including an outdoor patio with grilling and dining areas, and a rooftop amenity offering outdoor cabanas, seating, and views of the surrounding city. In addition, a dog spa with an outdoor dog run will be a convenient amenity for dog owners residing within the building.
Outdoor amenity deck at Avro Condominiums, image courtesy of Davpart